In the past month, Copart launched its first ever "Rebuild Challenge" contest. Copart members only could submit an original video that ran for less than three minutes. The video entry showed the fixing, rebuilding or customizing of a vehicle. Each participant's completed project was then showcased on Copart's website where others voted for their favorite. An expert panel of judges would also weigh-in on the decision. The three finalists with the most votes by the contest's end were declared the winners of the $10,000 Grand Prize. Congratulations to Redsawh Harley, the WRX project, and Z Dream. Very impressive rebuilds! Only true dedication and time could transform these project vehicles to dream rides. Automobile enthusiasts worldwide browse Copart auctions every day to find the perfect fit for their dream car. If you'd like to witness the top car projects for yourself click here. For any car enthusiast, it is still very exciting to check out the finalists' projects and get an idea of just how a little creativity and dedication can completely transform a salvage vehicle into something special. For example, check out this 1996 Redshaw Harley that has been rebuilt into a trike. This submission currently stands at no. 1 on the leaderboard. The effort that went into this project is both impressive and inspiring.
Click the images below to watch the video submissions.
Other submissions include this restored Shelby GT500. The video details how much work went into turning a shabby, worn out vehicle into one that looks as good as new. It's pretty neat to watch. The results were clearly worth the effort, and best of all, these contestants probably didn't have to spend much money in the process.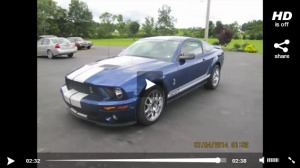 The best thing about buying Copart vehicles is the great savings. While it may take some work to get a salvage vehicle in this sort of shape, when all is said and done, you will only have spent a fraction of the cost to create your customized, dream car. NOTE: It is important to say that a dealer's license is normally required in order to participate in Copart auctions. However, SalvageReseller.com is a Copart Registered Broker, which means ANYONE who joins can buy Copart vehicles. You don't need a dealer's license! Here is how you would get started.