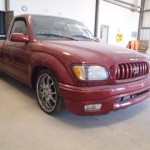 Scoring deals at a car auction has never been easier or more worthwhile. Consider the benefits of an online car auction before you even set foot on a dealer lot.
Find a Bargain
Unlike traditional dealerships, at online car auctions you choose how much you want to pay. If you are on a tight budget, an auction can be the place to find perfect, repairable salvage cars.
Pick Up a Project
Like most gearheads, you are probably on the lookout for the next car to keep your hobby going. By viewing cars at auctions, you choose the size and depth of the project from the start.
Repair a Vehicle
Perhaps you don't want a new vehicle, but you just want to make your old one like new. Online auto auctions is best at scoring deals for parts and panels to make your vehicle shine at a fraction of the cost of new ones.
Expand a Search
Because almost every region of the country is included, buying cars at auction through SalvageReseller.com provides a better selection of vehicles. You can find off-lease, off-rental, fleet, reposed, trade-in and salvage cars in every model to suit your needs.
Be Comfortable While Scoring Deals
Forget salespeople, haggling and bad weather. The search for your next vehicle begins in the comfort of your home and on your schedule with online auto auctions.