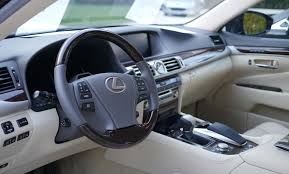 Staying on top of cleaning your salvaged vehicle prevents it from becoming an arduous task. Ten simple steps exist to keep it in tight check. By consistently doing the following, the salvaged vehicle owner can make sure their thrifty investment maintains value and visual appeal.
How to Keep Your Car Clean
1. Keep a trash bag in your car. Especially on road trips, it is important to have a specific area designated for your garbage. When you reach a rest stop it will be much easier than sifting through your car to figure out what's garbage and what isn't. Buy a plastic cereal container and put a plastic bag in it to act as a garbage can. 2. Create a cleaning schedule and adhere to it. 3. Protect the valuable carpeting by putting a mat over it. 4. Don't eat and drive. Even bottled beverages other than water carry a stain factor. Save your food for the kitchen, not your car, or it will become quite impossible to keep your car clean. 5. If possible, keep your car in the garage. It will get exposed to less elements this way. 6. Wax your car. This is often overlooked because it seems tedious, but a little bit of wax goes a long way. 7. Rain-x your windows. It only takes a few seconds and will wick away water. You won't have water marks and your windshield wipers won't need to be used as often. 8. Take off your shoes. The soles of your shoes harbor dirt, mud, grime, grease, snow, and other assorted dangers to the carpeting. If you know you're going to come back with mud on your shoes, bring a any kind of bag to place them in before entering the car. This is so much easier than cleaning dried mud up later. 9. Toothpaste is a stain-remover and little known tool to keep your car clean. Use it to get rid of ink or ketchup stains on your seats or carpet. Be sure to use a white toothpaste that is not a gel. Dampen cloth with toothpaste and apply to stain. Repeat as necessary. 10. Vinegar can be used to clean windows. Remove dust from windows with paper towel before beginning. Fill spray bottle with equal parts water and vinegar and spray onto windows. Use a cloth to rub the vinegar on the surface, and dry with another cloth. For larger windows, fill a bucket with water and vinegar mixture and apply to window with a sponge.